A One's Cocker Spaniels
In Memoriam
Macho´s granddaughter & Hansi's daughter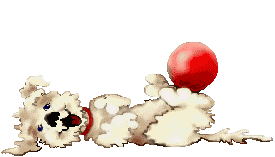 SU(u)CH A One´s Jaggelonika of Yendor "Jaggan"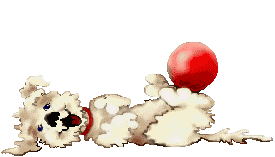 July 20, 1999- March 22, 2010
Many warm thanks to Alicia & family for all the love you gave Jaggan!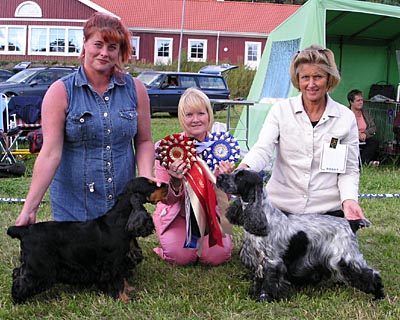 Jaggan and her father Hansi winning BIS/BIS Res at Söderköping in 2003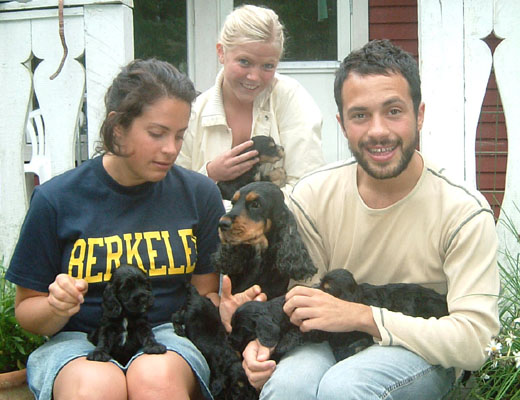 My ideal of a Cocker - merry, confident,
beautiful and a wonderful sense of humour!
She does anything to make you smile - even roll around!
Best temperament I ever observed in a Cocker!
She just loves life and everybody!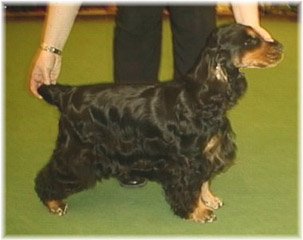 born July 20, 1999
HDC/eyes clear until December 27, 2005
pedigree

Jaggan's greatgrandmother Salora Painted Angel of Covana
Jaggan was eyetested on January 4, 2003, by Professor of Veterinary Ophthalmology, Kristina Narfström,
University of Missouri-Columbia, Department of Veterinary Medicine & Surgery. Eyes are clear.
Jaggan won her first CAC at Gothenburg International under Mr Horst Kliebenstein.

In May 2002 Jaggan was 4th best bitch under Mrs Penny Lester,
her kennel sister Silja winning BOB.
Jaggan gained her 2nd CAC and was 2nd Best Bitch at Nyköping on August 19
(Her father BOB/BIG). Judge Inger Byström wrote:
"Bra storlek och könsprägel, vackert huvud och uttryck, bra hals- o överlinje, väl utvecklad bröstkorg,
god benstomme, bra vinklar, god päls, rör sig med gott steg o aktiv svans, välvisad."
On January 25, 2003, Jaggan won her 3rd CAC under Mrs Joanna Darby-Hoskins, Kennel Classicway and was 2nd Best Bitch
(91 Cockers entered excl puppies) and thereby her titele SWEDISH SHOW CHAMPION!
"Very cockery black and tan. Good head- Good tan colouring. Adequate neck. Well-laid shoulder. Well-ribbed.
Mature body in good condition. Moves soundly front and back."

Best Bitch May 25, 2003, under Mrs Ritas Van Mechelen (Stenungsund).

Res Best Bitch under Mr Peter Woolf of Colinwood, June 15, 2003 (Gränna).
BEST IN SHOW under Mrs Fonia Mace, Fonesse, August 23, 2003 at Söderköping!