A One's Cocker Spaniels
SSRK Moheda March 2, 2008
Bling-Bling wins her 11th Best of Breed ... at the age of 2.
Breed judge Monica Dreijer
I love the way she approaches and touches the dogs.
And seems totally immune to collegial expectations.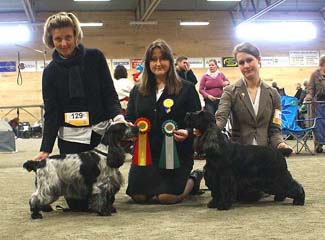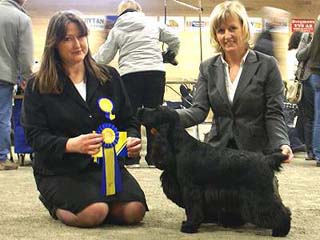 left BOB & BOS/right Maximates Flying Dutchman (photos Sten Bergquist) winning his 2nd CAC (only blacks in the best-dog-line-up)
Best (Champion) Bitch/Best of Breed/not placed in the BIS final under Ing-Marie Hagelin:
SU(u)CH NordV07 SV08 A One's Fingers Crossed BLUE ROAN!
(Allert's Right On Line & WW03 VDHCH SU(u)CH DTBSG2000 DKUCH Blue Satin Forever A One's)
Owner: Ann Swärd
"Utmärkt storlek. Championtik av mycket hög klass. Utmärkta proportioner. Mycket feminint vackert huvud med ett härligt uttryck. Vacker hals och överlinje. Välkroppad.
Utmärkta ben och tassar. Utmärkt välmodulerat bakställ. Utmärkt lårbredd. Härlig muskulatur. Utmärkt pälskvalitet. Rör sig med lätta vägvinnande och fina parallella steg."
Best Champion Dog/Best of Opposite Sex/BIS-BOS under Ing-Marie Hagelin. Congratulations!:
Now why do I get this feeling, the breeder of Line Sam Hot Black Pepper and Hagelin sitting next to each other on the judges' bench?
I like both breeder and equipage, a great handler and the sweetest of persons too. And really, the breeder of Hot Black Pepper has got to sit SOMEWHERE
and cannot help he was invited to judge golden retrievers today. The problem is entirely with me, envy, I suppose.
Through all these years I never understood Hagelin's judging. Last summer she placed Hansi BIS2 at Rottneros, hm, movements could be better (Hansi was 12 then.).
Bling-Bling certainly MOVES but no, thank you, out you go. If I ever find myself in such a situation again, I am going to tell those responsible why I
refuse to waste four precious hours of my life on people like Hagelin. And hopefully they will let me go home.
SU(u)CH NUCH SV07 Line Sam Hot Black Pepper BLACK!
(SU(u)CH NUCH NV01 NordV00 KBHV Line Sam Hot Dog & Le Bon Backstage At Line Sam)
Owner: Anna-Carin Johansson



Best Puppy 4-6 months/BIS2 under ? Congratulations!:
Emba's Love Made of Chocolate What a little charmer!
(Vignett's King of Chocolate & Elmers Goldmine Mums Karamell)
Owner: Annica Modigh
Best Puppy 6-9 months/not placed in the BIS final under Sara Nordin:
Maxi Mates Isidor the Blacksmith
(SU(u)CH Woodman Black Petrs & Maxi Mates Foolish Robe)
Owner: Eva Börtin Bergquist
Best Junior Dog/5th Best Dog:
Line Sam Catch the Moon BLACK!
(Line Sam Signature & Line Sam Chorus)
Owner: Mona-Lisa Liljenberg
Best Dog 15-24 months/CAC/3rd Best Dog:
Maxi Mates Flying Dutchman BLACK!
(Maxi Mates Minute Man & Maxi Mates Sovereign Robe)
Owner: Eva Börtin Bergquist
Best Open Class Dog/4th Best Dog:
Grimsholmen Exclusive Design BLACK!
(Wensum Irvine & SU(u)CH Travis Why Be Normal)
Owner: Ann-Britt Westerdahl
2nd Best (Champion) Dog:
SU(u)CH Occis Clockstopper BLACK!
(VDHCH NUCH SU(u)CH Travis Vital Spark & Travis Ace of Base)
Owner: Britta Dafgård
Best Junior Bitch/CAC/2nd Best Bitch:
Apelhöjdens Octopussy RED!
(Quilmhair Innis Dubh & Apelhöjdens Stand By Me)
Owner: Ingela Hansson
Best Bitch 15-24 months/3rd Best Bitch:
Occis Keep the Dream Alive BLUE ROAN!
(VDHCH CHCH ESCH SU(u)CH ATCH Corralet Tango & SU(u)CH DKUCH KBHV05 LUCH PLCH WW06 Travis Hold On To Your Dream)
Owner: Britta Dafgård
Best Open Class Bitch/4th Best Bitch:
Brightwood's Caol Ila BLUE ROAN!
(VDHCH DECH SU(u)CH DKUCH KBHV04 NordV03 SV05 Midnight Train Vom Rauhen Holz & SU(u)CH Wiljana Waterwheel)
Owner: Bernice Nilsson
Best Veteran/BIS3 Congratulations!:
SVCH Dark Wing's Brizola BLUE ROAN!
(Solbo's Aiko & Kaledos Topas)
Owner: Annis Lindberg