A One's Cocker Spaniels
Öland National, September 4, 2005
Judge: Mrs Louise Dorr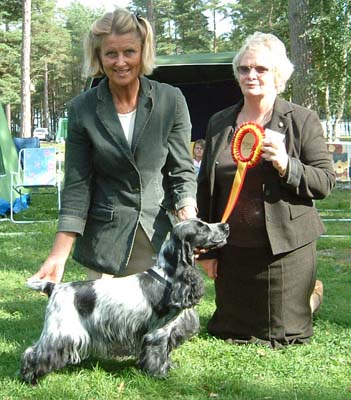 Best of Breed/BIG2/Best (Champion) Bitch:
SU(u)CH KBHV2004 A One's Rapunzel Vom Rauhen Holz
(VDHCH DTCH SU(u)CH NORDV 2003 KBHV2004 Cocker of the Years 1998-2003 Midnight Train Vom Rauhen Holz &
DTJCH DTJBSG 2000 DTEJSG 2000 DTBSG 2001 2003 2004 EUSG 2002 DTCH VDHCH LUXCH Cocker of the Year 2001Louisa Vom Rauhen Holz)
Owner: Ann Swärd
"Lovely balanced bitch, not exaggerated in any way. Lovely head, nice crispy neck. Good fore quarter angulation.
Good broad level topline. Excellent tail-set. Strong rear. True out and back but would like her a little tighter."
Best (Junior) Dog/CAC: Only 3 dogs in Best Dog Class!
Apelhöjdens More Music
(SU(u)CH SV03 Manaca's On The Road & Apelhöjdens Rhapsody In Rock)
Owner: Gunilla Eriksson
2nd Best (Open Class) Bitch/CAC:
A One's Eleonora
(GBSHCH SPCH Lennoxgrove Sadly Sober & VDHCH SU(u)CH DT BSG 2000 WW 2003 DKUCH Blue Satin Forever A One's)
Owner: Ann Swärd
"This bitch is full of excellent breed qualities. Balanced from the tip of the nose to the tip of the tail. Exquisite head. Excellent fore quarter angulation.
Correct depth and width in front. Beautiful topline and broad back. Strong rear angulation, good tail-set. Excellent mover."
Yes, you're right, Mrs Dorr liked Eleonora more than Rapunzel but when Katarina Rosqvist handled Rapunzel in the finals, Mrs Dorr changed her mind ;-)
A great big THANK YOU to Katarina, owner of Caesar, Winline's One of These Days! And of A One's Gone With the Wind.
Best Open Class Dog/2nd Best Dog: Only 3 dogs in Best Dog Class!
Shakima's Mambo
(SU(u)CH CHCH ESCH Corralet Tango & Shakima's What A Surprise)
Owner: Ann-Catrine Bergh
3rd Best Dog/2nd Best Dog Open Class:
Winline's One of These Days
(SU(u)CH Northworth Infernal Fire & Paisley's Kille Queen)
Owner:Katarina Rosqvist
Best Junior Bitch/CK:
Shakima's Cessna
(SU(u)CH Westerner Hi-Flyer & Shakima's What A Surprise)
Owner: Ann-Catrina Bergh
Best Bitch 15-24 months/5th Best Bitch:
Cockados Flipping Mad
(Westerner Firefly & Cockados Special Tartan)
Owner: Gunnel Adolfsson Lundgren
Best Veteran Bitch/3rd Best Bitch:
Cockados Sweet Thing
(Carillo Sylvester & Cockados Special Prayer)
Owner: Gunnel Adolfsson Lundgren