A One's Cocker Spaniels
Ronneby SKK International, August 11, 2007, a day with 100% humidity!
Breed Judge: Magdalena Karlsson


Group Judge: Ove Germundsson


Breed Judge Trainee: Mia Sandgren


35 cockers excl puppies were entered, 32 of which participated.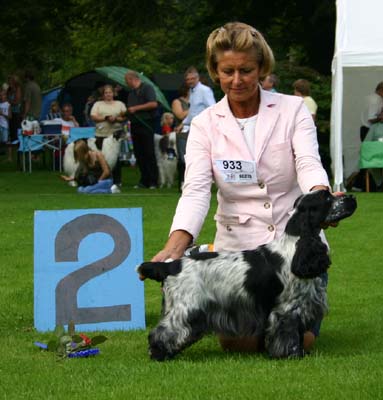 photo Sara Porle

Best (Open Class) Bitch/CAC no 10/CACIB no 4/Champion today/BOB/BIG2: At 2 years and 2 weeks
A One's Fingers Crossed
(Allert's Right On Line & VDHCH SU(u)CH DKUCH WW03 DTBSG2000 Blue Satin Forever A One's)
Owner: Ann Swärd
"Feminint välutfyllt huvud, mycket bra hals, tillräckligt förbröst, välformad bröstkorg, utmärkta proportioner, välvinklat bakställ med mycket bra bredd,
mycket bra kors, rör sig parallellt med långt steg, mjuka rörelser, håller sina linjer väl i rörelse. Stilfull helhet. Champion idag."
Best (Veteran) Dog:
NUCH SU(u)CH Atacama's Zougin
(Dualdigni's Cool Company & SVCH Atacama's Sweet Heart)
Owner: Susanne Berggren

photo Sara Porle

Best Puppy of Breed/BIS2 (Norman Deschuymere):
Pearl Harbour Space Queen (photo Bjuv)
(VDHCH DECH SU(u)CH DKUCH SV05 NordV03 KBHV04 Midnight Train Vom Rauhen Holz & SU(u)CH Pearl Harbour Silver Pearl)
Owner: Bernice Nilsson



Best Junior Dog/2nd Best Dog/CAC:
Tullebyns Goldeneye
(Glenbrows Never Say Never At Claramand & Tullebyns Mini Eclaire)
Owner: Anette Persson
Best Dog 15-24 months/4th Best Dog:
Lönnbackens Salted Liquorice
(Glenbrows Never Say Never At Claramand & Lönnbackens Natascha)
Owner: Inger Jönsson
Best Open Class Dog/3rd Best Dog/CACIB?:
Grimsholmen Exclusive Design
(Wensum Irvine & SU(u)CH Travis Why Be Normal)
Owner: Ann-Britt Westerdahl
Best Junior Bitch/CK:
Zazza Paa Duo's Dark Blue Angel
(Joycock's Zoolander & Joycock's Almost Famous)
Owner: Katarina Dehman
Best Bitch 15-24 months/5th Best Bitch:
Suncox Night Wish
(SU(u)CH Backhills For Your Eyes Only & Strandmarkens Golden Showers)
Owner: Marina Aspelin
Best Champion Bitch/2nd Best Bitch:
SVCH SU(u)CH Flashdance Betty Boop
(SU(u)CH Powerscourt Pied Piper & Backhills Esther Williams)
Owner: Susanne Berggren



2nd Best Junior Dog/1:
Bimarkas Bachelor
(Emba's Mr Oboy Chocolate & Vignett's Moon Spirit)
Owner: Eva-Lotta Calén
3rd Best Junior Dog/1:
Westerner Diamond Mine
(Bomway Over The Border & Westerner Safir)
Owner: Katarina Dehman
4th Best Junior Dog/1:
Westerner North Wester
(SU(u)CH Westerner Hi-Flyer & Westerner Take A Raincheck)
Owner: Agneta Odell
Junior Dog/no show:
Burnou de Fresnel
(Benchmark Red Velvet & Weeping Willow's Quate)
Owner: Marina Bengtsson
Junior Dog/2:
Murbräckans Mr Gorgeous
(Murbräckans Al Capone & Love Cox's Sleeping Beauty)
Owner: Annette Lidebo



2nd Best Dog 15-24 months/1:
Occis Daydreamer
(SU(u)CH VDHCH CHCH ESCH ATCH Corralet Tango & SU(u)CH KBHV05 WW06 DKUCH PLCH LUCH Travis Hold On To Your Dream)
Owner: Anna Enquist



Open Class Dog/2:
Cybercock's Phoenix Star
(Catchy Significant Stuart & Grimsholmen New Direction)
Owner: Stephanie Schmidt



2nd Best Junior Bitch/HP:
Grimsholmen Square Dancer
(Grimsholmen Exclusive Design & Grimsholmen Lady Godiva)
Owner: Ann-Britt Westerdahl
3rd Best Junior Bitch/1:
Discovery's Special N'Delight
(Fendrove Razzle-Dazzle With Claramand & Discovery's All I Want Is You)
Owner: Annette Lidebo
Junior Bitch/2:
Cockett's Princess of Autumn Dreams
(Cardamine The Sable King & Love Cox's Chasing Daydreams)
Owner: Hanne Westergren
Junior Bitch/no show:
Diamonhill's Mandy
(Summer Girl's Origano & Diamonhill's Queen By Night)
Owner: Sune Åkesson



2nd Best Bitch 15-24 months/CK:
Brightwood's The Famous Grouse
(VDHCH DECH SU(u)CH DKUCH SV05 NordV03 KBHV04 Midnight Train Vom Rauhen Holz & SU(u)CH Wiljana Waterwheel)
Owner: Ingrid Olsson
3rd Best Bitch 15-24 months/1:
Strawberry Line's Perlerose
(Retzina's Ossy Osbourne & Diamonhill's Sleeping Beauty)
Owner: Rosa Garthe
4th Best Bitch 15-24 months/1:
Lönnbackens Fudge
(Glenbrows Never Say Never At Claramand & Lönnbackens Natascha)
Owner: Jennie Persson
5th Best Bitch 15-24 months/1:
Sundew's Dedicated To Carole King
(Golden Grace Danger Dream & Himlahunden Tummelisa)
Owners: Olle & Annlouise Ingvarsson
Bitch 15-24 months/2:
Backhills Little Secret
(SU(u)CH Westerner Timekeeper & SU(u)CH Backhills Harmony And Peace)
Owner: Yvonne Sjöstrand
Bitch 15-24 months/2:
Dajana Vom Borkenfeld
(DEJCH Mandy's Aragon & Alenka Vom Borkenfeld)
Owner: Marie Weidstam
Bitch 15-24 months/1:
Himlahunden Elina
(Himlahunden Pyzen & Shakima's Tarantella)
Owner: Liss-Mari Mauritzson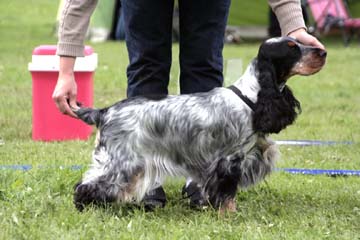 photo Jessica Persson

2nd Best Open Class Bitch/3rd Best Bitch:
Brightwood's Slide Out
(Brightwood's Glen Ord & Brightwood's One In A Million)
Owner: Bernice Nilsson
3rd Best Open Class Bitch/4th Best Bitch:
Joycock's Another Angel
(SVCH Joycock's Yoshi & Grimsholmen Electra)
Owner: Katarina Dehman
4th Best Open Class Bitch/1:
Classicway Clarity
(GBSHCH Glowhill Scrumpy Jack & Classicway Co Star)
Owners: Börje & Theres Johansson
5th Best Open Class Bitch/1:
Tullebyns Yatzy
(SU(u)CH Claramand Xtra Special & Tullebyns Lo And Behold)
Owner: Inger Jönsson
Open Class Bitch/1:
Backhills Move Over Darling
(SU(u)CH Powerscourt Pied Piper & SV07 SU(u)CH SV03 NorV03 NUCH Backhills Doris Day)
Owner: Charlotte Karlsson
Open Class Bitch/no show:
Grimsholmen Lauren Bacall
(Travis Precious Dreams & Grimsholmen Trouble In Paradise)
Owner: Jörgen Karlsson
Open Class Bitch/1:
Tapioka's Flying Fortress
(Westerner Firefly & Tapioka's Bel Air)
Owner: Maria Ekstrand
Open Class Bitch/2:
Travis Ace of Base
(SV96 Travis Touch Mark & SU(u)CH Meryl Basic Energy)
Owners: Britta Dafgård & Torben Andersen



2nd Best Champion Bitch:
SU(u)CH Fashionpack's La Dolce Vita
(Grimsholmen Caligula & Catechism O'ops I'm For Fashioin Pack)
Owner: Marie Gustafsson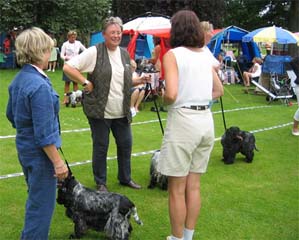 Best-bitch 15-24 months-class photo Ulf Larsson