A One's Cocker Spaniels
Four years later ...
Nordic Winner 2007 Stockholm December 15, 2007
Judge bitches & BOB: Jostein Halvorsen, kennel Bomway, Norway
Judge dogs: Patric Ragnarsson
129 cockers were entered, 52 dogs and 77 bitches, 10 progeny groups and 10 breeder's groups
63 bitches and 43 dogs turned up (prel figures).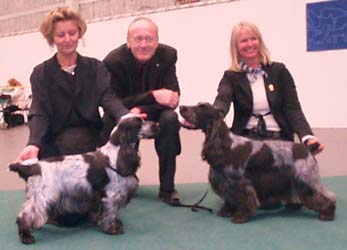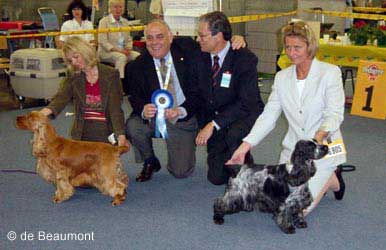 photo Linda Malmstedt Parents winning World Winner Show Dortmund 2003
Best (Champion) Bitch/CACIB/Nordic Winner 2007/Qualified for Crufts/Best of Breed:
A One's Fingers Crossed
(Allert's Right On Line & WW03 VDHCH SU(u)CH DTBSG2000 DKUCH Blue Satin Forever A One's)
Owner: Ann Swärd
Somebody must have like Bling-Bling's critique, because the slip was not there when I went to pick it up. Arrived by post 3 weeks later saying:
"2,5 år av typisk engelsk kvalitet, kvadratisk kropp, goda vinklar fram och bak, glad och livlig, typisk outline. Den har mycket ogjort i England. En härlig tik."
Best (Champion) Dog/CACIB/Nordic Winner 2007/Qualified for Crufts/Best of Opposite Sex:
Travis Miles of Smiles
(WW03 SU(u)CH NUCH Travis Gossip Starts Here & Travis Brassed Off)
Owners: Kari & Anna Haave



Best Progeny Group of Breed/HP:
VDHCH DECH SU(u)CH DKUCH KBHV04 NordV03 SV05 Midnight Train Vom Rauhen Holz with
Pearl Harbour Blue Laika
Brightwood's The Famous Grouse
Pearl Harbour Blue Sapphire
Pearl Harbour Franz Schubert
"En klass som bestär av en avelshund o fyra avkommor. Gruppen präglas av klassiska fina huvuden, goda proportioner, kvadratiska kroppar och en sund anatomi."
Best Breeder's Group:
Kennel Pearl Harbour with
Pearl Harbour Blue Laika
Pearl Harbour Blue Sapphire
Pearl Harbour Franz Schubert
SU(u)CH Pearl Harbour Silver Pearl
Owner: Suzanne Borg

Best Junior Bitch/Nordic Junior Winner 2007/CAC: "She will win a lot!"
Pearl Harbour Blue Laika
(VDHCH DECH SU(u)CH DKUCH KBHV04 NordV03 SV05 Midnight Train Vom Rauhen Holz & SU(u)CH Pearl Harbour Silver Pearl)
Owner: Suzanne Borg

Best Bitch 15-24 months/CK
Brightwood's Famous Grouse
(VDHCH DECH SU(u)CH DKUCH KBHV04 NordV03 SV05 Midnight Train Vom Rauhen Holz & SU(u)CH Wiljana Waterwheel)
Owner: Ingrid Olsson
Best Open Class Bitch/CK:
Perchwater Midsummer Night Dream
(SU(u)CH NUCH Allert's Pole Position & SVCH NVCH Perchwater Queen of Rain)
Owner: Frida Ankerson
Best Veteran Bitch/CK:
Nordv03 NUCH SU(u)CH SV03 SV07 Backhills Doris Day
(Travis Fool For You & Stora Barnviks Blue Nun)
Owner: Karin Staaf
Best Working Bitch/HP:
FINUCH Manaca's Xcuse My Conduct
(WW96 FINV95 WW95 JWW94 FINUCH INTUCH Northworth Madman's Return & SU(u)CH Manaca's Alice In Chains)
Owner: Monica Forsander



Best Junior Dog/Nordic Junior Winner 2007/CK:
Skjervtun's Wanna Be
(NUCH Casein's Campania & NUCH Skjervtun's Playmate Epress)
Owner: Elin Hallerud Borgersen
Best Dog 15-24 months/CAC/5th Best Dog:
Manaca's Gets Ideas Going
(SU(u)CH Woodman Black Petrs & SVCH SU(u)CH NordV06 NUCH Manaca's Undesigned Dream)
Owner: Monica Forsander
Best Working Dog/CK:
Fenbrook Ain't No Other
(NUCH Travis Vital Spark & FINUCH Manaca's Xcuse My Conduct)
Owner: Taava Nevapuro
Best Open Class Dog/CK:
FINUCH HUCH INTUCH RUCH Madman's Return of Black Mirage
(VDHCH INTUCH LUCH HUCH Lochranza Black Mirage & Tainted Girl of Black Mirage)
Owner: Dr Tamás Jakkel
Best Veteran Dog/4th Best Dog:
NORDUCH NV05 VEUW06 Manaca's Yours Sincerely
(WW96 FINV95 WW95 JWW94 FINUCH INTUCH Northworth Madman's Return & NUCH Manaca's Dancin' With The Blues)
Owner: Monica Forsander



2nd Best Champion Bitch/2nd Best Bitch:
SUK(u)CH Matchpoint's Where You Belong
(SU(u)CH Waterwood Forever Happy & SU(u)CH Matchpoint's Mascara)
Owners: Lena & Kenneth Norlund
3rd Best Champion Bitch/4th Best Bitch:
NUCH Wineleaf's Love Is In the Air
(N&DKUCH Paisley's Time To Look Forward & SUCH NUCH Wineleaf's Words For Love)
Owner: Karin Winbladh
4th Best Champion Bitch/5th Best Bitch:
FINV05 NORD&DKUCH NORDV05 PLCH Muscha's Play My Ding Dong
(Dan-L's Piece of Pie & Dan-L's Something To Talk About)
Owners: Per & Helle Dan Pålsson
5th Best Champion Bitch/CK:
DKUCH SVCH SU(u)CH Perchwater Blue Queen of Magic
(A One's Aldebaran & & SVCH SU(u)CH LPI Marimia's Rain-Drop)
Owner: Frida Ankerson



2nd Best Champion Dog/2nd Best Dog:
SU(u)CH NUCH WW03 Travis Gossip Starts Here
(SV96 Travis Touch Mark & Travis Leon Lights)
Owners: Kari & Anna Haave
3rd Best Champion Dog/3rd Best Dog:
NUCH SU(u)CH SV07 Line Sam Hot Black Pepper
(KBHV00 NORDV00 NV01 SU(u)CH NUCH Line Sam Hot Dog & Le Bon Backstage At Line Sam)
Owner: Anna-Carin Johansson
5th Best Champion Dog/CK:
DKUCH JEUW06 NUCH SU(u)CH SV06 Manaca's Beat About the Bush
(NUCH Travis Vital Spark & SVCH SU(u)CH NUCH Manaca's Rain Or Shine)
Owner: Yvette & Desirée Widenor
4th Best Champion Dog/CK:
DKUCH NUCH Cockergold Misty Blue
(NUCH Travis Vital Spark & SU(u)CH DKUCH NUCH Carillo Cover Design)
Owner: Christina Madsen
Champion Dog/CK:
SU(u)CH Westerner Cross Country
(Bomway Over the Border & Westerner Fly Me High)
Owner: Cecilia Johansen
Champion Dog/no show:
SU(u)CH Backhills Know It All
(SU(u)CH Powerscourt Pied Piper & SU(u)CH NUCH Backhills Farah Diba)
Owner: Charlotta Mc Cormack



2nd Best Junior Bitch/CK:
Northworth Focus On Me
(UYCH ARCH Coralet Indian Savage & Northworth Occult Taste)
Owner: Nina Kauhanen

3rd Best Junior Bitch/CK:
Tolinka Tiramisu
(SU(u)CH Westerner Aquarious & SVCH Perchwater Misty-Blue)
Owner: Annika Hopic
4th Best Junioir Bitch/CK:
Allert's Zoccer Wadd
(SU(u)CH Mistily's Amber Gambler & Classicway Clarity)
Owners: Theres & Börje Johansson
5th Best Junior Bitch/1:
Support Betty Boop
(SU(u)CH DKUCH Backhills Garibaldi & SVCH Allert's Sun Shine)
Owners: Katarina von Brömssen & Lars Ekelund



2nd Best Bitch 15-24 months/CK:
Black Mica's Accelerera Mera
(SU(u)CH Westerner Hi-Flyer & Almanza Full Speed Ahead)
Owner: Pia Aronsson Gawell
3rd Best Bitch 15-24 months/HP:
Manaca's Gainst the Grain
(SU(u)CH Woodman Black Petrs & SVCH SU(u)CH NordV06 NUCH Manaca's Undesigned Dream)
Owner: Karoline Djerf
4th Best Bitch 15-24 months/HP:
Winline's Covergirl
(SU(u)CH Paisley's Let Me B'the One & Winline's Kisses of Fire)
Owner: Petra Funke
5th Best Bitch 15-24 months/1:
Gracewood's Jump For Joy
(Apelhöjdens More Music & Gracewood's Mary Lou)
Owner: Elisabeth Lennartdotter



2nd Best Open Class Bitch/CK:
Anemos First Served To Travis
(NUCH Travis Vital Spark & SU(u)CH Travis A La Carte)
Owners: Kari & Anna Haave
3rd Best Open Class Bitch/CK:
Pearl Harbour Blue Sapphire
(VDHCH DECH SU(u)CH DKUCH KBHV04 NordV03 SV05 Midnight Train Vom Rauhen Holz & SU(u)CH Pearl Harbour Silver Pearl)
Owner: Suzanne Borg
4th Best Open Class Bitch/CK:
Honeywater's Happiness Like Jam
(SU(u)CH Waterwood Forever Happy & SVCH Manaca's Of Course)
Owner: Karoline Djerf
5th Best Open Class Bitch/CK:
SVCH Perchwater Misty-Blue
(A One's Aldebaran & SVCH SU(u)CH LPI Marimia's Rain-Drop)
Owner: Annika Hopic



2nd Best Junior Dog/CK:
Northworth Fear For Fight
(UYCH ARCH Corralet Indian Savage & Northworth Occult Taste)
Owner: Nina Kauhanen
3rd Best Junior Dog/HP:
Tolinka Semifreddo
(SU(u)CH Westerner Aquarious & SVCH Perchwater Misty-Blue)
Owner: Agneta Björklund
4th Best Junior Dog/1:
Sofus Kenzo
(Quettadene Footsteps & no name of mother registered)
Owner: Ulla-Stina Eriksson
5th Best Junior Dog/1:
Westerner Columbo
(SU(u)CH Westerner Aquarious & Westerner Twin Peak)
Owner: Monica Riscoll



2nd Best Dog 15-24 months/CK:
Backhills New Design
(Hochachtungsvoll vom Schloß Hellenstein & SU(u)CH Travis Keep It Classy)
Owner: Karin Staaf
3rd Best Dog 15-24 months/CK:
Asquanne's Ghenghis
(GBSHCH Asquanne's Gillespie & Asquanne's Graynene)
Owner: Gunilla Eriksson
4th Best Dog 15-24 months/1:
SVCH Perchwater Master of Magic
(SVCH SU(u)CH Perchwater Mr Rainbow & SVCH SU(u)CH DKUCH Perchwater BLue Queen of Magic)
Owner: Marie Risberg
5th Best Dog 15-24 months/1:
Jutrix Headlight
(LPI LPII Jutrix Headline & Lynwater Vanilla)
Owner: Nina Karlsson



2nd Best Open Class Dog/CK:
Murbräckans Paparazzi
(SU(u)CH Quilmhair Highland Fling & Murbräckans Annie Get Your Gun)
Owner: Christina Hofgren
3rd Best Open Class Dog/CK:
Northworth Venomous Poison
(Northworth Talk In Waves & FINUCH Twinsmade American Pie)
Owner: Hanna Holmberg
4th Best Open Class Dog/CK:
Line Sam Someone To Hug
(Line Sam Piece of Cake & Line Sam Miss Marmelstein)
Owner: Tord Lundborg
5th Best Open Class Dog/1:
Backhills Mr Marvel
(SU(u)CH Powerscourt Pied Piper & SV07 SU(u)CH SV03 NordV03 NUCH Backhills Doris Day)
Owner: Annika Ericksson



2nd Best Veteran Dog/CK:
NUCH SU(u)CH Atacama's Zougin
(Dualdigni's Cool Company & SVCH Atacama's Sweet Heart)
Owner: Susanne Berggren

3rd Best Veteran Dog/HP:
SU(u)CH Quettadene Lancelot
(GBSHCH Perrytree Sun Dreamer & Quettadene High Society)
Owners: Yvette & Desirée Widenor



Progeny Group/HP:
SVCH Perchwater Misty-Blue
Progeny Group/no show:
N&DKUCH Paisley's Time To Look Forward

Progeny Group/no show:
SU(u)CH Powerscourt Pied Piper
Progeny Group/no show:
NUCH Travis Vital Spark
Progeny Group/no show:
SU(u)CH Waterwood Forever Happy
Progeny Group/no show:
SU(u)CH Westerner Aquarious
Progeny Group/no show:
SU(u)CH Westerner Hi-Flyer
Progeny Group/no show:
SU(u)CH Woodman Black Petrs
Progeny Group/no show:
SU(u)CH Wedelta's Magic Beauty



Breeder's Group/HP:
Kennel Tolinka
Breeder's Group/HP:
Kennel Manaca's
Breeder's Group/no show:
Kennel Perchwater
Breeder's Group/no show:
Kennel Fancy Paws
Breeder's Group/no show:
Kennel Backhills
Breeder's Group/no show:
Kennel Matchpoint's
Breeder's Group/no show:
Kennel Paisley's
Breeder's Group/no show:
Kennel Line Sam
Breeder's Group/no show:
Kennel Westerner



Junior Bitch/1:
Abendstunde vom Schloß Hellenstein
(Blickfang vom Schloß Hellenstein & Wundertüte vom Schloß Hellenstein)
Owner: Katarina Bekeris
Junior Bitch/2:
Atacama's Endless Lessie
(LPI LPII Lynwater Ling & SVCH Atacama's Baby Doll)
Owner: Linda Johansson
Junior Bitch/?:
Dan-L's All About Queen of Eisbear
(KBHV98 SV01 SU(u)CH DKUCH VDHCH DECH DAn-L's Let's Talk About Sex & Paisley's Outsier)
Owner: Kristin Olsen
Junior Bitch/1:
Fancy Paws Precious Pumpkin
(SU(u)CH DKUCH Backhills Garibaldi & Fancy Paws Evening Dazzle)
Owner: Yvonne Thomsson
Junior Bitch/no show:
Fancy Paws Queen of Magic
(SU(u)CH Claramand B'Dazzled & SU(u)CH Wedelta's Magic Beauty)
Owner: Birgitta Kåberger
Junior Bitch/1:
Gracewood's Monkey Business
(Apelhöjdens More Music & Gracewood's Blue Rose)
Owner: Marie Fredriksson
Junior Bitch/1:
Häljans Morgana
(SU(u)CH Quettadene Lancelot & SU(u)CH Paisley's Kiss'n Tell)
Owners: Evelina Olsson & Jane Jarefors
Junior Bitch/1:
Margate Keep It Real
(Margate Be For Real & Margate Look At Me)
Owner: Marjut Kakko
Junior Bitch/no show:
Paisley's I'm the One
(SU(u)CH Paisley's Let Me B'the One & SU(u)CH JWW03 NUCH Winline's Out of This World)
Owner: Ann Christin Nyman

Junior Bitch/no show:
Sofus Minerva
(Quettadene Footsteps & no name of mother registered)
Owner: Ann Cathrin Elmqvist
Junior Bitch/1:
Tolinka Torta Pasqualina
(SU(u)CH Westerner Aquarious & SVCH Perchwater Misty-Blue)
Owner: Chatarina Nilsson
Junior Bitch/2:
Westerner Angels Flight
(SU(u)CH Westerner Aquarious & Westerner Snowpearl)
Owner: Yvonne Sawinski
Junior Bitch/1:
Westerner Dance For Me
(SU(u)CH Westerner Timekeeper & Westerner Delight)
Owner: Anneli Börjesson Blanc
Junior Bitch/1:
Zeltzin's First In Line
(SU(u)CH Westerner Cross Country & Zeltzin's The-One)
Owner: Susanne Karlsson



Bitch 15-24 months/no show:
Backhills Natalie Wood
(Hochachtungsvoll vom Schloß Hellenstein & SU(u)CH Travis Keep It Classy)
Owners: Charlotta Mc Gormack & Karin Staaf
Bitch 15-24 months/no show:
Cockados Best Wishes
(N&DKUCH Paisley's Time To Look Forward & Lynwater Best Lighht)
Owner: Gunnel Adolfsson Lundgren
Bitch 15-24 months/1:
Dualdigni's Kidney Bean
(SU(u)CH Westerner Aquarious & Dualdigni's Garden Angel)
Owner: Marie Johansson
Bitch 15-24 months/2:
Fancy Paws Open Mind
(SU(u)CH Claramand B'Dazzled & SU(u)CH Wedelta's Magic Beauty)
Owner: Elisabeth Andersson
Bitch 15-24 months/1:
Manaca's Dress Designer
(Hochachtungsvoll vom Schloß Hellenstein & SVCH SU(u)CH Manaca's Oops I Did It Again)
Owner: Katarina von Brömssen
Bitch 15-24 months/1:
Murbräckans Pennylane
(Murbräckans Al Capone & Merry Cocktails Black Pearl)
Owner: Mia Hietala
Bitch 15-24 months/2:
Strawberry Line's Perlerose
(Retzina's Ossy Osbourne & Diaonhill's Sleeping Beauty)
Owner: Rosa Garthe
Bitch 15-24 months/no show:
Suncox Night Wish
(SU(u)CH Backhills For Your Eyes Only & Strandmarkens Golden Showers)
Owner: Marina Aspelin
Bitch 15-24 months/2:
Travis Got the Bug
(WW03 S&NUCH Travis Gossip Starts Here & Travis Lagonda)
Owner: Felicia Jacobsson
Bitch 15-24 months/2:
SVCH Westerner Love On Time
(SU(u)CH Westerner Timekeeper & Bomway Over the Moon)
Owner: Stina Yron Lund
Bitch 15-24 months/1:
Zazza Paa Duo's Dark kBlue Angel
(Joycock's Zoolander & Joycock's Almost Famous)
Owner: Katarina Dehman



Open Class Bitch/1:
Amarula
(Manaca's Mile Stone Corner & Manaca's Hot Stuff)
Owner: Marie Larsson
Open Class Bitch/1:
Apelhöjdens Simply the Best
(Apelhöjdens Rockin'robin & SU(u)CH NordJV03 Apelhöjdens Woop It's a Tan)
Owner: Lina Broberg
Open Class Bitch/1:
Backhills Katharine Hepburn
(SU(u)CH Powerscourt Pied Piper & SU(u)CH NUCH Backhills Farah Diba)
Owner. Helen Franzén
Open Class Bitch/2:
Cockados Shimmering Light
(Lynwater Spruce & Lynwater Best Light)
Owner: Gunnel Adolfsson Lundgren
Open Class Bitch/no show:
Dan-L's White Tail
(N&DKUCH Paisley's Time To Look kForward & SU(u)CH DKUCH Dan-L's Sad-No Way)
Owner: Jane Jarefors
Open Class Bitch/1:
Dualdigni's Garden Angel
(Lynwater Look Me Up & SU(u)CH Shadecock's Ice Cream)
Owner: Malin Henningsson
Open Class Bitch/1:
Joycock's Almost Famous
(SVCH Joycock's Yoshi & Grimsholmen Electra)
Owner: Hanna-Lena Malmberg
Open Class Bitch/1:
SVCH Marimia's Time-To-Twist
(SUCH DKUCH INTUCH Dan-L's Danupward Edward & Marimia's Spice-Girl)
Owner: Anna Johansson
Open Class Bitch/no show:
Matchpoint's Happy Surprise
(SU(u)CH Waterwood Forever Happy & SU(u)CH Matchpoint's Different Surprise)
Owner: Kristin Olsen
Open Class Bitch/1:
Matchpoint's NIce Surprise
(SU(u)CH Waterwood Forever Happy & SU(u)CH Matchpoint's Different Surprise)
Owner: Gunilla Isaksson
Open Class Bitch/1:
SVCH Meryl Dreams Vs Reality
(SU(u)CH Almanza Uncontrollable & NordV01 SV01 SU(u)CH NUCH Travis Wake Up And Dream)
Owner: Anneli Sundkvist
Open Class Bitch/no show:
Skjervtun's In Her Shoes
(NV03 FINV04 NUCH Travis Mater Mine & NV03 NV04 NUCH Skjervtun's Instant Karma)
Owner: Elin Halerud Borgersen
Open Class Bitch/1:
Tapioka's Flying Fortress
(Westerner Firefly & Tapioka's Bel Air)
Owner: Maria Ekstrand
Open Class Bitch/no show:
Tårpilens Mary Quant
(Tårpilens Nobleman & Murbräckans Coco Chanel)
Owner: Ann Cathrin Elmqvist
Open Class Bitch/no show:
Westerner Carry the Day
(Bomway Over the Border & Westerner Fly Me High)
Owner: Agneta Odell
Open Class Bitch/1:
Westerner Fairytale
(SU(u)CH Westerner Hi-Flyer & Westerner Take a Raincheck)
Owner: Inger Ivarsson
Open Class Bitch/1:
Westerner Flying Fox
(SU(u)CH Westerner Hi-Flyer & Mainel's Wind Whisper)
Owner: Ida Ehnhage
Open Class Bitch/1:
Westerner Ghost Story
(SU(u)CH Westerner Hi-Flyer & Westerner Waylight)
Owner: Catharina Fredriksson
Open Class Bitch/1:
Wildflame's Hot Cayenne
(Murbräckans Al Capone & SVCH Himlahunden Afrodite)
Owner: Sofia Gäderblom



Champion Bitch/CK:
Backhills Lucille Ball
(SU(u)CH Westerner Timekeeper & SU(u)CH Backhills Harmony And Peace)
Owner: Maria Åslund
Champion Bitch:
SU(u)CH Backhills Marilyn Monroy
(SU(u)CH Powerscourt Pied Piper & SV07 SU(u)CH SV03 NOrdV03 NUCH Backhills Doris Day)
Owner: Karin Staaf
Champion Bitch:
Bright Mornings Kiss Me Quick
(Sheerclever Hype & Bright Mornings Raindrop)
Owner: Christina Eriksson
Champion Bitch/no show:
SU(u)CH SVCH Flashdannce Betty Boop
(SU(u)CH Powerscourt Pied Piper & Backhills Esther Williams)
Owner: Susanne Berggren
Champion Bitch:
SU(u)CH Frostwork's Templar Flame
(SU(u)CH NUCH A One's Toreador & SU(u)CH NUCH Emba's Miss Money Penny)
Owner: Åsa Mattsson
Champion Bitch:
SVCH SU(u)CH Manaca's Unblushing Dream
(SU(u)CH Quettadene Lancelot & SVCH SU(u)CH DKUCH Manaca's In Your Dream)
Owner: Monica Forsander
Champion Bitch/no show:
SU(u)CH Matchpoint's Different Surprise
(SU(u)CH Claramand Xtra Special & SU(u)CH Matchpoint's a Piece of Difference)
Owners: Lena & Kenneth Norlund
Champion Bitch/no show:
SU(u)CH NUCH Paisley's Dancing In the Nighht
(Allert's NIght Party & Caci's Macy Gray)
Owner: Jane Jarefors
Champion Bitch:
SU(u)CH Pearl Harbour Silver Pearl
(Northworth a True Ashgrove & SU(u)CH LPI NUCH A One's Pearl Harbour)
Owner: Suzanne Borg
Champion Bitch:
Winline's the Winner Takes It All
(SU(u)CH Woodman Black Petrs & Winline's Kisses of Fire)
Owner: Petra Funke



Junior Dog/no show:
Bondmorans Front Page
(Cockados Sun Light & Westerner Aflame Colours)
Owner: Margareta Axelsson
Junior Dog/2:
Dan-L's Dollar Sign
(USCH Ashgrove Brisbane & Dan-L's It's About Time)
Owner: Marie Johansson
Junior Dog/2:
Fancy Paws Quantum Classic
(SU(u)CH Claramand B'Dazzled & SU(u)CH Wedelta's Magic Beauty)
Owner: Jenny Larsson
Junior Dog/no show:
Line Sam Nothing's Gonna Stop Us Now
(Line Sam Love At First Sight & Line Sam Nothing Else Matters)
Owner: Agnetha Franzén
Junior Dog/1:
Line Sam Some Say Love
(SU(u)CH DKUCH Soolon Sunny-Boy & Line Sam Miss Marmelstein)
Owner: Anneli Hultén
Junior Dog/2:
Manaca's It's In His Kiss
(USCH Ashgrove Brisbane & SVCH SU(u)CH DKUCH Manaca's In Your Dream)
Owner: Madeleine Ivarsson
Junior Dog/no show:
Sofus Footlights
(Quettadene Footsteps & no name of mother registered)
Owners: Jaana Ranta & Riikka Kotanen
Junior Dog/2:
Tolinka Parozzo
(SU(u)CH Westerner Aquarious & SVCH Perchwater Misty-Blue)
Owner: Yvonne Nilsson



Dog 15-24 months/1:
Abbadon's Cerberus
(VDHCH Aro's Star Aliance & Queen of G Fantasies Z Vejminku)
Owner: Anneli Hultén
Dog 15-24 months/2:
Bright Mornings Spy Man
(N&DKUCH Paisley's Time To Look Forward & Bright Mornings Tender Touch)
Owner: Christina Eriksson
Dog 15-24 months/no show:
Cockrock's Lightning Kid
(Caci's King of Diamonds & Cockrock's Wendy Waterfall)
Owner: Sara Danielsson
Dog 15-24 months/2:
Elmers Goldmine Quandy-Kid
(Elmers Goldmine Karate-Kid & Emmaboda Miracle)
Owner: Karin Åberg
Dog 15-24 months/2:
Manaca's Far And No Further
(FINJV05 Almanza Hit the Road Jack & SVCH SU(u)CH Manaca's Unblushing Dream)
Owner: Anne-Li Lag
Dog 15-24 months/no show:
Murbräckans Corvette
(SU(u)CH Wersterner Hi-Flyer & Murbräckans Zevitanova)
Owner: Anneli Stenström
Dog 15-24 months/?:
Paisley's Fit For Fight
(SU(u)CH Woodman Black Petrs & Paisley's Eleanor Rigby)
Owners: Petra Funke & Ann Christin Nyman
Dog 15-24 months/2:
Trinnöja's Tikka-Masala
(Cardamine the Sable King & Trinnöja's Spice Girll)
Owner: Angelica Mansfield
Dog 15-24 months/3:
Tårpilens Rhapsody In Rock
(Tårpilens Nobleman & Tårpilens Tango)
Owner: Kjell Rubin
Dog 15-24 months/2:
Tårpilens Rock Around the Clock
(Tårpilens Nobleman & Tårpilens Tango)
Owner: Lars Jidsell
Dog 15-24 months/2:
Zazza Paa Duo's Secret Blue Angel
(Joycock's Zoolander & Joycock's Almost Famous)
Owner: Hanna-Lena Malmberg



Open Class Dog/no show:
Bright Mornings Man On the Moon
(Paisley's Red Rooster & Bright Mornings Raindrop)
Owner: Christina Eriksson
Open Class Dog/2:
Fancy Paws Kindley Wizard
(SU(u)CH NUCH Travis Able And Willing & SU(u)CH Wedelta's Magic Beauty)
Owner: Lena Fälth
Open Class Dog/no show:
Paisley's Dreammaker
(SV00 SU(u)CH Claramand Shockwave & SU(u)CH Paisley's Kiss For a Rose)
Owner: Ann Christin Nyman
Open Class Do/no show:
N&DKUCH Paisley's Time To Look Forward
(Lynwater Look Me Up & Dan-L's It's About Time)
Owner: Jane Jarefors
Open Class Dog/1:
Pearl Harbour Franz Schubert
(VDHCH DECH SU(u)CH DKUCH KBHV04 NordV03 SV05 Midnight Train Vom Rauhen Holz & SU(u)CH Pearl Harbour Silver Pearl)
Owner: Suzanne Borg
Open Class Dog/KEP:
Perchwater Silver-Blue
(Stocdale American Prayer & SVCH SU(u)CH LPI Marimia's Rain-Drop)
Owners: Gunilla Sundin & Frida Ankerson
Open Class Dog/1:
Perchwater Unique Rain
(Stocdale Let's Talk About Rain & SVCH NVCH Perchwater Queen of Rain)
Owner: Marie Johansson