A One's Cocker Spaniels
WW 2003 VDHCH DT BSG 2000 SU(u)CH DKUCH
Blue Satin Forever A One´s
"Saga"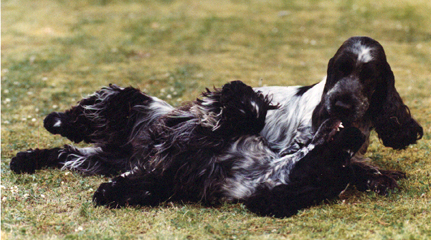 Saga and her father Hansi (photo Åsa Lindholm)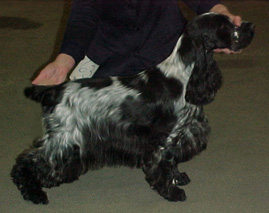 pedigree
Born March 13, 1998
OptiGen-tested prcd-PRA/FN Normal

Saga gained the title
DEUTSCHE BUNDESSIEGERIN 2000
at Dortmund International on October 21 under Mr Ado Cornelius.
And she won the Finnish CAC at Helsinki on December 2.
BOS/3rd Cacib (her father BOB) Gothenburg International January 2001
BOS/4th Cacib (her father BOB) Malmoe International March 17, 2001
BOS/5th Cacib (her father BOB) Oesterbybruk International June 2, 2001
Swedish Show Champion at Halmstad National, July 7, 2001
Best of Breed/BIG3 at Askersund National August 12, 2001 under Susie Svoldgaard and ...
WORLD WINNER 2003 on May 30 under Mr Luis Pinto Teixeira!
Thank you judges!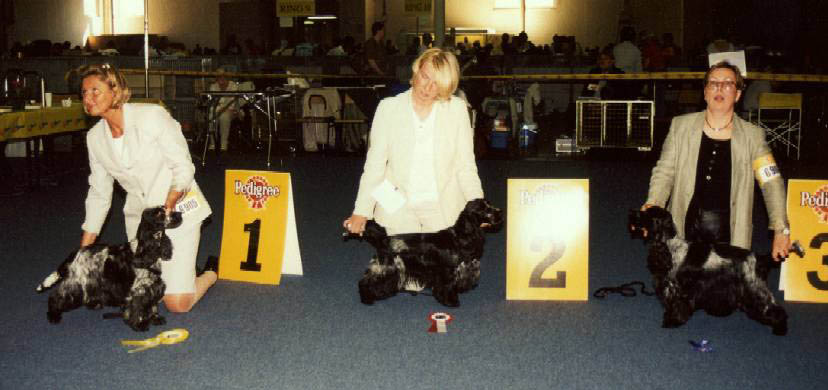 Dortmund World Winner 2003 - champion class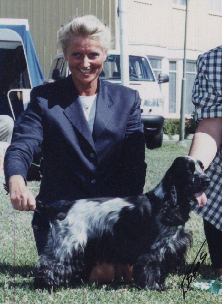 "Saga" has gained 6 Cacibs, 7 CCs in Sweden, 1 Finnish CAC, 1 Jugendanwartschaft, 5 VDH-Anwartschaften and 2 Siegeranwartschaft in Germany and has several BOS-wins, all when her father has won the BOBs.
Many thanks to her breeders Aud-Jorun Nysted & Kjell-Ivar Larsen, Norway, for a oneofakind Cocker Spaniel!
Saga is litter sister to NUCH NV 2000 Blue Satin Finest Creation,
Blue Satin Flatter Boy, Blue Satin Flower Power, four CAC-winning daughters and sons by
DECH VDHCH SU(u)CH DKUCH NordV 2003 KBHV 2004 SV 2005 Midnight Train
Vom Rauhen Holz from the same litter.
Saga is the dam of SVCH A One´s Finnoscandia, LUXJCH DTJCH VDHCH DECH DT BSG 2002 A One´s Of Course, SU(u)CH DKUCH SV 2005 A One's Eleonora, FINUCH ESTCH INTUCH SU(u)CH BaltW06 A One's Teodora, NordJV 2004 DKUCH A One's Troubadour, NUCH SU(u)CH A One's Toreador
& C.I.E NORDUCH NV08 KBHV08 SV08 NordV07 A One's Fingers Crossed.
The strength of a kennel is its bitches - we feel stronger than ever!