A One's Cocker Spaniels
NORDUCH DKUCH NUCH SU(u)CH NV2004 A One´s Borkum Riff
"Skipper"
Top Winning Cocker Dog 2005
pedigree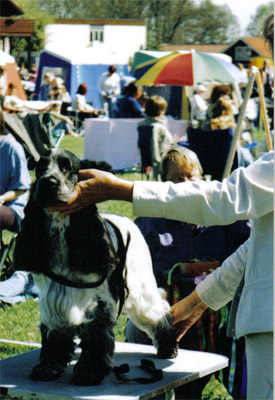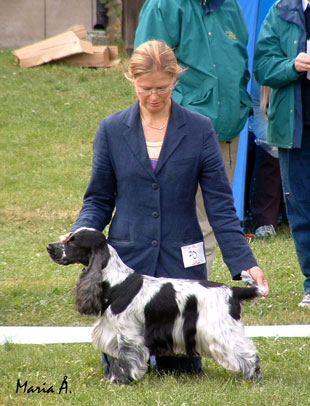 Born October 17, 1998
HD-free and eyes clear
Skipper started his European career by winning his 1st German CAC/ResCacib/ResAnwartschaft Club
at Berlin International on March 25, 2001.
There he was 2nd best dog after VDHCH DECH Midnight Train Vom Rauhen Holz
and since Hansi is already DECH, Skipper can claim the Siegeranwartschaft! Judge: Mrs Henny Kappetijn.
At Dortmund International on May 4, 2001, again Skipper won ResAnwartschaft Club/Res Cacib
under Mrs Jackie Rowland, Perrytree, England.
The day after, on May 5, Skipper won BOB/CACIB/Norwegian CAC and BIG3
at Kristiansand, Norway, under Mr Moray Armstrong:
"Beautiful head, eye and expression. Super neck and shoulders. Excellent front. Very good ribs.
Strong topline with good tailset. Excellent quarters. Beautiful coat and condition. Sound movements."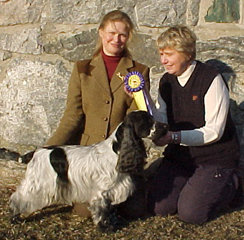 At Gävle on March 23, 2003, Skipper won his first Swedish CAC & 2nd Best Dog under judge Tarja Hovila, Finland.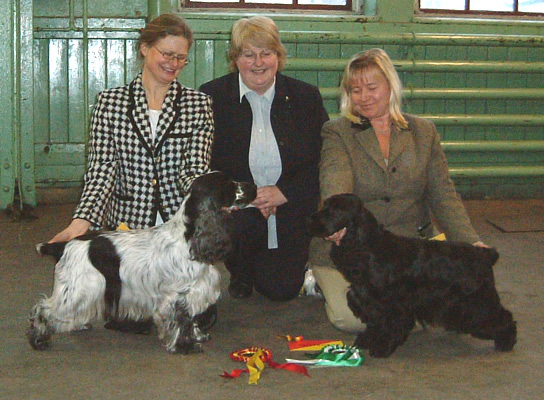 CAC No 2 was gained at Köping on January 24, 2004 under Mrs Trudy Walsh, Ireland.
On February 14, 2004, Skipper won his final CAC thereby gaining his SU(u)CH & NUCH
at Gothenburg under Mrs Agnes Ganami Kertes, Israel.

On March 13, 2004, Skipper won BEST IN SHOW at Eskilstuna under
well-known Swedish breed specialist Mr Börje Johansson, Kennel Allert's.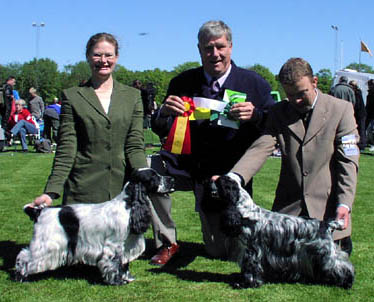 ... AND, for the 3rd time in 2004, BEST OF BREED (and BIG Reserve)
under Mr Knut Sigurd Wilberg, Norway, at Stenungsund, on May 23,
who also awarded Skipper's half-brother URUGCH BRCH A One´s Fat Boy Slim ...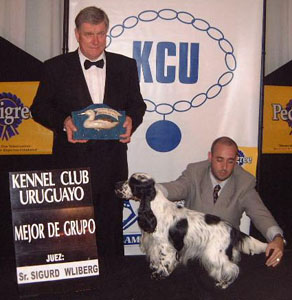 ... BEST IN GROUP in Uruguay.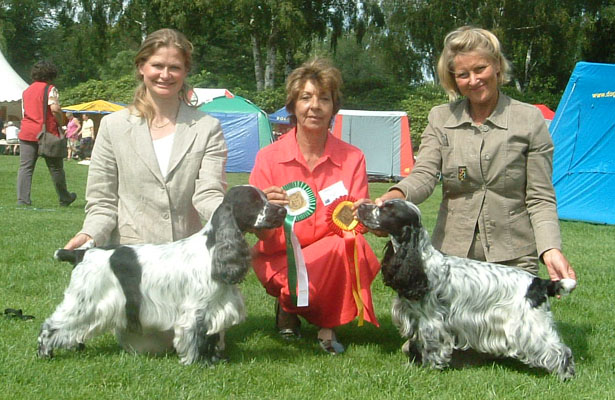 Skipper won BOS/CACIB under Mrs Joanne Sewell, Australia, and Pearl Harbour Silver Pearl gained BOB/CACIB/CAC at Ronneby on July 2004.
On November 6, 2005, Skipper won the Danish CAC/DKUCH under Mrs Jessie B Madsen.
Which also made Skipper NORDUCH.
One month later Skipper was 2nd Best Dog - his uncle Hansi winning Best Dog/Swedish Winner 2005 at 10,5 years -
and Skipper was thereby TOP WINNING DOG 2005!
Not bad for a stuck-up, terribly spoilt but somehow still a gentleman of a pet dog!
Skipper loves his owner to pieces! AND handler! Nothing he would not do for them!
So far he has never spent one minute in solitude.
Like mother like son!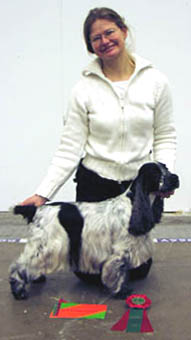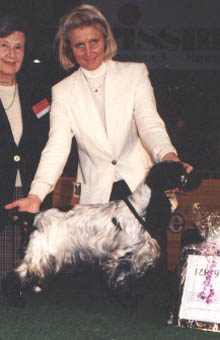 Skipper and his mother VDHCH DECH DT BSG 97 WW98 FINUCH Moonlight Mattie Vom Rauhen Holz.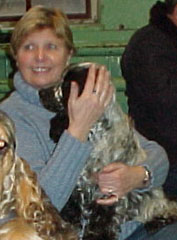 Loving owner: Brigitte Ihleberg, Västerås, tel +46 21 35 13 14