A One's Cocker Spaniels
Södermanlands Cockerklubb, Eskilstuna, March 13, 2004
Judge: Mr Börje Johansson, Kennel Allert's
- famous handler/breeder of many champions - one of which is NORDUCH NV02 SU(u)CH Allert's Cornelia.

61 entries excl 23 puppies.

BEST IN SHOW!
NUCH SU(u)CH A One's Borkum Riff
(Skipper's first babies were born today at Kennel A One's out of A One's Rapunzel Vom Rauhen Holz!)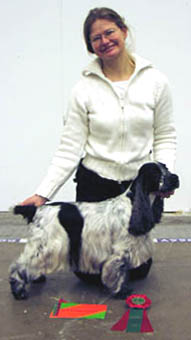 Waiting for fresh photo ...
Best Champion Dog/Best Dog/BOB/BIS:
NUCH SU(u)CH A One's Borkum Riff
(Travis Vital Spark & VDHCH DECH DT BSG 97 WW 98 FINUCH Moonlight Mattie Vom Rauhen Holz)
Owner: Brigitte Ihleberg/Handler: Suzanne Borg, Kennel Pearl Harbour
"Hund fylld av kvalitet, mycket tilltalande huvud, vacker hals, utmärkt skulderansättning, utmärkt topline, mycket välvinklad,
bra bröstkorg med ett väl utfyllt förbröst, vacker päls, bra svansansättning, trevliga och effektiva rörelser, välvisad."
BOS/BIS Reserve/Best Bitch (15-24 months):
Timanka Ride the Broom
(INTUCH NUCH SUCH Timanka's Wonderbird & Timanka's Friendely Ghost)
Owner: Elisabeth Andersson
Best Junior Dog:
Claramand Again And Again
(Glenbrows Never Say Never At Claramand & Linsloc Maid Marian With Claramand)
Owner: Madeleine Ivarsson
Best Dog 15-24 months/4th Best Dog:
Apelhöjdens Winston
(SU(u)CH Quettadene Lancelot & Apelhöjdens Taste of Honey)
Owner: Pekka Junttila

Best Open Class Dog/2nd Best Dog:
SV03 Manaca's On The Road
(VDHCH DECH SU(u)CH NordV03 Midnight Train Vom Rauhen Holz & SU(u)CH Manaca's In Your Dream)
Owner: Monica Forsander
Best Veteran Dog/5th Best Dog:
SV99 Manaca's Peeping Tom
(PORTCH WW94 Chataway Craftsman & Manaca´s Born To Rise´n Shine)
Owner: Yvette Widenor
Best Champion Bitch/4th Best Bitch:
SU(u)CH NUCH SV03 NordV03 Backhills Doris Day
(NUCH Travis Fool For You/Stora Barneviks Blue Nun)
Owner: Karin Staaf
Best Junior Bitch/5th Best Bitch:
Love Cox's Apricot Sprite
(A One's Aldebaran & Grimsholmen Electra)
Owner. Christina Hofgren
Best Open Class Bitch/3rd Best Bitch:
Manaca's Main Attraction
(SU(u)CH Manaca's Yours Sincerely & SU(u)CH Manaca's Alice In Chains)
Owner: Monica Forsander
Best Veteran Bitch:
Manaca's Pennies From Heaven
(PORTCH WW94 Chataway Craftsman & Manaca´s Born To Rise´n Shine)
Owner: Monica Forsander