A One's Cocker Spaniels
A One's Fingers Crossed is TOP WINNING COCKER SPANIEL JUNIOR in Sweden ever!
No other cocker spaniel has won 9 official junior classes with CK and a total number of entries in his/her class of 77!

The Swedish Spaniel- & Retriever Club, Södertälje August 26, 2006
Judge: Mr Adam Murray, Camillus & Worlewood, UK, stand-in for Mrs Joyce Caddy, Ouainé
84 cockers were entered, 59 turned up in ring 5.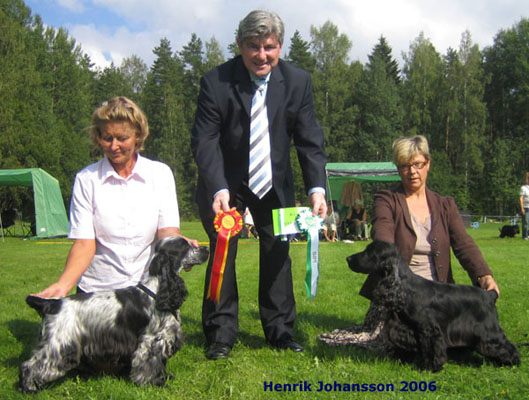 Best (Junior) Bitch/CAC/Best of Breed/BIS4:
A One's Fingers Crossed
"13 month, beautiful type, balanced outline, correct head, feminine expression, lovely neck & shoulders, well-boned legs, lovely feet, short deep body,
good topline held on the move, correct rear angulation & tailset, moves soundly displaying cocker ATTITUDE, presented beautifully & good coat."
(Allert's Right On Line & SU(u)CH DKUCH VDHCH DT BSG 2000 WW 2003 Blue Satin Forever A One's)
Owner: Ann Swärd
Best (Open Class) Dog/CAC/BOS:
Paisley's Let Me B'The One
(SU(u)CH Claramand B'Serious & Paisley's Teardrops From Heaven
Owner: AnnChristin & Lasse Nyman



Best Dog Puppy 6-9 months/HP/BOS-Puppy 6-9 months:
Backhills New Design
(Hochachtungsvoll vom Schloß Hellenstein & SU(u)CH Travis Keep It Classy)
Owner: Karin Staaf
2nd Best Dog Puppy 6-9 months:
Häljans Saida-Boy
(Paisley's Night-Watchman & Paisley's Time Is On My Side)
Owner: Eva Degermo Andersson
3rd Best Dog Puppy 6-9 months:
Love Cox's Still A Flashing Sun
(SU(u)CH Westerner Still of the Night & Mainel's Chocolate Creation)
Owner: Jill Liljebladh



Best Bitch Puppy 6-9 months/HP/BOB Puppy 6-9 months:
Très Coquette vom Schloß Hellenstein
(Hänschenklein vom Schloß Hellenstein & Kolbenmaus vom Schloß Hellenstein)
Owner: Monika Forsander
2nd Best Bitch Puppy 6-9 months/HP:
Familular's Om Du Var Här
(Paisley's Red Rooster & Paisley's Teardrops From Heaven)
Owner: Linda Malmstedt
3rd Best Bitch Puppy 6-9 months:
Bizzhaie Ride the Wind
(A One's Aldebaran & SVCH Bizzhaie Just Lady Chatterly)
Owner: Siv Gåling
4th Best Bitch Puppy 6-9 months:
Backhills Naughty But Nice
(Hochachtungsvoll vom Schloß Hellenstein & SU(u)CH Travis Keep It Classy)
Owner: Elisabeth Andersson
5th Best Bitch Puppy 6-9 months:
Shakima's Trivial Pursuit
(Sätra's Texas & Kolapappret & Shakima's Oriflame)
Owner: Ann-Catrine Bergh
Bitch Puppy 6-9 months/not placed:
Fancy Paws Open Mind
(SU(u)CH Claramand B'Dazzled & SU(u)CH Wedelta's Magic Beauty)
Owner: Elisabeth Andersson



Best Junior Dog/CK/4th Best Dog:
Manaca's Beat About the Bush
(Travis Vital Spark & NUCH SU(u)CH Manaca's Rain Or Shine)
Owner: Yvette Widenor
2nd Best Junior Dog/HP:
Cockados Sun Shine
(Lynwater Spruce & Lynwater Best Light)
Owner: Gunnel Adolfsson-Lundgren
Junior Dog/2:
Bright Morning's Right Colour
(Paisley's Red Rooster & SU(u)CH Birght Morning's Kiss Me Quick)
Owner: Linda Malmstedt-Selldén



Best Dog 15-24 months/CK/2nd Best Dog:
Westerner Cross Country
(Bomway Over the Border & Westerner Fly Me High)
Owner: Cecilia Johansen
2nd Best Dog 15-24 months/HP:
Pansy's Feelin' Groovy
(SU(u)CH Claramand B'Dazzled & Pansy's Sweet 'N Sour)
Owner: Maria Ingvarsson
3rd Best Dog 15-24 months/HP:
Shakima's Dark Eye
(Shakima's Mambo & Sätra's Hänt I Veckan)
Owner: Annika Stjärneving
4th Best Dog 15-24 months/1:
Apelhöjdens Roulette
(Sausbergets Amarant & SU(u)CH Apelhöjdens Tender Touch)
Owner: Carina Annerklev
5th Best Dog 15-24 months/1:
Manaca's Zero Hour
(SU(u)CH Manaca's Yours Sincerely & Manaca's Peaches For Nothing)
Owner: Lena Hildeby
Dog 15-24 months/1:
Dualdigni's Hidden Treasure
(Bomway Over the Border & Sätra's Kors Och Tvärs)
Owner: Carolina Andersson
Dog 15-24 months/1:
Manaca's Absent Minded Artist
(SU(u)CH Manaca's General Idea & SU(u)CH Manaca's In Your Dream)
Owner: Ulrika Ljung
Dog 15-24 months/1:
Manaca's Yours Faithfully
(SU(u)CH NUCH Travis Able And Willing & SU(u)CH Manaca's Mainn Attraction)
Owner: Evy Melander



2nd Best Open Class Dog/CK:
Shakima's Mambo
(CHCH ESCH SU(u)CH Corralet Tango & Shakima's What A Surprise)
Owner Ann-Catrine Bergh
3rd Best Open Class Dog/1:
Love Cox's First Choice
(SU(u)CH Westerner Still of the Night & Love Cox's Always Love Me)
Owner: Madeleine Ivarsson
4th Best Open Class Dog/1:
Imokam Andalusi
(Sprogmore Magnum & Gitana de los Ombues)
Owner Henrik Johansson
5th Best Open Class Dog/1:
Mainel's Principals Nose
(NUCH Travis Shop Till You Drop & Mainel's Written in the Wind)
Owner: Carina Tännström
Open Class Dog/1:
LPI Bizzhaie Look At Chivas
(Stora Barnviks CHivas Regal & Bizzhaie Janis Joplin)
Owner: Siv Gåling
Open Class Dog/2:
Lagromi All Over Again
(SU(u)CH Northworth Again And Again & Lagromi I'm Your Melody)
Owner: Ann Hallgren
Open Class Dog/1:
LPI LPII Lynwater Ling
(Lynwater Wild Thyme & Lynwater Water Iris)
Owner: Annika Olsson
Open Class Dog/2:
Manaca's Under Study
(SU(u)CH Quettadene Lancelot & SU(u)CH Manaca's In Your Dream)
Owner: Ulrika Ljung
Open Class Dog/1:
Merry Cocktails Enterprice
(Quilmhair Highland Fling & Merry Cocktails Will To Please)
Owner: Linda Lennartsson
Open Class Dog/no show:
Mistily's Breakaway
(Lochdene Cover Story & Roqfolly Rosie Carver)
Owner: Christina Daniels
Open Class Dog/no show:
NUCH DKUCH Paisley's Time To Look Forward
(Lynwater Look Me Up & DKUCH Dan-L's It's About Time)
Owner: Jane Jarefors
Open Class Dog/no show:
Sjösvängens Håller Takten
(CHCH ESCH SU(u)CH Corralet Tango & Dark Wing's Brizola)
Owner: Annis Lindberg



Best Champion Dog/CK/5th Best Dog:
SU(u)CH Quettadene Lancelot
(GBSHCH Perrytree Sundreamer & Quettadene High Society)
Owner: Yvette Widenor
2nd Best Champion Dog/CK/3rd Best Dog:
SU(u)CH Claramand Again And Again
(Glenbrows Never Say Never At Claramand & Linsloc Maid Marian With Glaramand)
Owner: Madeleine Ivarsson
3rd Best Champion Dog:
SU(u)CH Manaca's Path Finder
(SU(u)CH Manaca's General Idea & Manaca's It Shows)
Owner: Maria Åhslund
4th Best Champion Dog:
SU(u)CH Powerscourt Pied Piper
(Riondel Venture To Powerscourt & Sorbrook Blue Ribbon At Powerscourt)
Owner: Karin Staaf



Best Veteran Dog/CK/BOS Veteran:
SU(u)CH NUCH NV05 Manaca's Yours Sincerely
(FINUCH FINV95 INTUCH JWW94 WW95 96 Northworth Madman's Return & Manaca's Dancin' With the Blues)
Owner: Monica Forsander
2nd Best Veteran Dog/HP:
SU(u)CH NUCH Atacama's Zougin
(Dualdigni's Cool Company & SVCH Atacama's Sweet Heart)
Owner: Susanne Berggren
3rd Best Veteran Dog/1:
SUCH Tomboys Bright Memory
(SU(u)CH Westerner Bar Lion & Tomboys Cocktail For Me)
Owners: Martin Adner & Cicci Larsson



2nd Best Junior Bitch/CK:
Häljans Let's Talk About Me
(DECH VDHCH DKUCH KBHV98 SV01 NORDV05 FINV05 Dan-L's Let's Talk About Sex & Paisley's Kiss'n Tell)
Owner: AnnChristin & Lasse Nyman
3rd Best Junior Bitch/HP:
Northworth Taste of Thunder
(Bommerlunder vom Schloß Hellenstein & Northworth Occult Taste)
Owner: Chatie Henriksson
4th Best Junior Bitch/HP:
Manaca's Cross Country
VDHCH DECH BSG99 Eisbär vom Schloß Hellenstein & SU(u)CH Manaca's Alice In Chains)
Owner: Monica Forsander
5th Best Junior Bitch/HP:
Cockados Awakening
(Lynwater Spruce & Lynwater Best Light)
Owner: Ann-Catrine Bergh
Junior Bitch/no show:
A One's Fighting Spirit
(Allert's Right On Line & SU(u)CH DKUCH VDHCH DT BSG 2000 WW 2003 Blue Satin Forever A One's)
Owner: Barbro Ingelström
Junior Bitch/1:
Backhill's Lucille Ball
(SU(u)CH Westerner Timekeeper & SU(u)CH Backhill's Harmony And Peace)
Owners: Karin Staaf & Maria Åslund
Junior Bitch/no show:
Dan-L's White Tail
(NUCH DKUCH Paisley's Time To Look Forward & DKUCH Dan-L's Sad-No-Way)
Owner: Jane Jarefors
Junior Bitch/no show:
Fiona
(SU(u)CH Westerner Hi-Flyer & SVCH Perchwater Misty-Blue)
Owner: Stina Odlinder
Junior Bitch/1:
Geltman's Moon And Stars
(Bitcon Moonlight Minstrel At Stormpasture & Cleavehill Sunshine)
Owner: Christina Filén
Junior Bitch/1:
Lynwater Lunar Shadow
(Lynwater Solar Eclipse & Lynwater Heather)
Owner: Susanne Gullberg
Junior Bitch/no show:
Meryl Dreams Vs Reality
(SU(u)CH Almanza Uncontrollable & NORDV01 SV01 NUCH SU(u)CH Travis Wake Up And Dream)
Owner: Anneli Sundkvist
Junior Bitch/no show:
Northworth Until the End
(Hochachtungsvoll vom Schloß Hellenstein & Northworth Jar Against All)
Owner: Chatie Henriksson
Junior Bitch/no show:
Panhur's Farry Dance
(SU(u)CH Westerner Hi-Flyer & Panhur's Florence Nightingale)
Owner: Ann-Sofie Tjulin
Junior Bitch/no show:
Pansy's Black Magic Again
(SU(u)CH Northworth Again And Again & Lagromi Black Magic For Pansy)
Owner: Ann Hallgren
Junior Bitch/no show:
Westerner June Sparkle
(Bomway Over the Border & Westerner Snow Pearl)
Owner Eileen Ingulfsson



Best Bitch 15-24 months/HP:
Sätra's Venus
(SU(u)CH Powerscourt Pied Piper & Sätra's Never On Sunday)
Owner: Ann-Catrine Bergh
2nd Best Bitch 15-24 months/1:
Backhills Marilyn Monroe
(SU(u)CH Powerscourt Pied Piper & SU(u)CH NUCH SV03 NORDV03 Backhills Doris Day)
Owner: Karin Staaf
3rd Best Bitch 15-24 months/1:
Sätra's Vingar Av Glas
(Woodman Black Petrs & Sätra's Rut & Rand)
owner: Ann-Catrine Bergh
Bitch 15-24 months/no show:
Moorleaf Jetblack
(SU(u)CH Woodman Black Petrs & Moorleaf Dancing Flame)
Owner: Monika Pettersson



Best Open Class Bitch/CK/3rd Best Bitch:
Honeywater's Eye of the Beholder
(Manaca's Back on the Chain Gang & Manaca's Of Course)
Owner: Karoline Djerf
2nd Best Open Class Bitch/CK 4th Best Bitch:
Manaca's Proud Mary
(SU(u)CH Manaca's General Idea & Manaca's It Shows)
owner: Jenny Carsting

3rd Best Open Class Bitch/1:
Backhills Katherine Hepburn
(SU(u)CH Powerscourt Pied Piper & SU(u)CH Backhills Farah Diba)
Owners: Helen Franzén & Karin Staaf
4th Best Open Class Bitch/1:
Paisley's Time Is On My Side
(Lynwater Look Me Up & Dan-L's It's About Time)
Owner: Eva Degermo Andersson
5th Best Open Class Bitch/1:
Travis Limited Edition
(Travis Fool's Goal & SU(u)CH Travis Hell No)
Owner: Maria Åslund
Open Class Bitch/1:
SV04 Choc Ice Birds of a Feather
(Imokam Andalusi & Mainel's Choc Ice Symphony)
Owner: Henrik Johansson
Open Class Bitch/1:
Cobarn Brilliant Guldkulan Girl
(Amberway Action Man & NUCH SU(u)CH Cobarn All Brilliant)
Owner: Agneta Sundquist Olofsson
Open Class Bitch/1:
SVCH Flashdance Betty Boop
(SU(u)CH Powerscourt Pied Piper & Backhills Esther Williams)
Owner: Susanne Berggren
Open Class Bitch/1:
Lagromi And I'm Proud of It
(Apelhöjdens Don Juan & Lagromi I'm Your Melody)
Owner: Maria Ingvarsson
Open Class Bitch/1:
Lynwater Vanilla
(Lynwater Solar Beam & Lynwater Sunrise)
Owner: Annika Olsson
Open Class Bitch/1:
Stora Barnviks Fantin Nodár
(A One's Aldebaran & SVCH Stora Barnviks Dona Alicia)
Owner: Annika Varbäck
Open Class Bitch/1:
Westerner Sheer Bliss
(Carillo Cloud Nine & Westerner Rose For Lady Blue)
Owner: Eileen Ingulfsson



Best Champion Bitch/CK/2nd Best Bitch:
SU(u)CH DKUCH SV05 A One's Eleonora
"3 years, excellent type, size & substance, first class head & expression, beautiful front angulation, good legs
& feet, short body, correct rear angulation & tailset, moves like a cocker should with style, beautifully presented."
ESCH GBSHCH Lennoxrove Sadly Sober & SU(u)CH DKUCH VDHCH DT BSG 2000 WW 2003 Blue Satin Forever A One's)
Owner: Ann Swärd
2nd Best Champion Bitch/CK:
SU(u)CH Shakima's Cessna
(Su(u)CH Westerner Hi-Flyer & Shakima's What a Surprise=
Owner: Ann-Catrina Bergh
3rd Best Champion Bitch/CK:
Su(u)CH Timanka's Ride the Broom
(INTUCH NUCH SU(u)CH Timanka's Wonderbird & Timanka's Friendly Ghost)
Owner: Elisabeth Andersson
4th Best Champion Bitch/CK:
Su(u)CH Travis Keep It Classy
(Travis Vital Spark & Travis a la Carte)
Owner: Karin Staaf
Champion Bitch/no show:
SU(u)CH KBHV2004 A One's Rapunzel vom Rauhen Holz
(VDHCH DECH SU(u)CH DKUCH KBHV2004 NORDV03 SV05 Midnight Train vom Rauhen Holz &
DTJCH DTJBSG 2000 DTEJSG 2000 DTBSG 2001 2003 2004 EUSG 2002 DECH VDHCH LUXCH Louisa Vom Rauhen Holz)
Owner: Ann Swärd

Champion Bitch/no show:
NUCH SU(u)CH Lordlike's Judy
(VDHCH DECH SU(u)CH DKUCH KBHV2004 NORDV03 SV05 Midnight Train vom Rauhen Holz & & Carillo Cool Girl)
Owner: Jane Jarefors

Champion Bitch/no show:
SU(u)CH NUCH Manaca's Rain Or Shine
(Northworth A True Ashgrove & SU(u)CH Manaca's Alice In Chains)
Owner: Monica Forsander



Best Veteran Bitch/CK/5th Best Bitch/BOB Veteran/5th BIS Veteran:
SU(u)CH Apelhöjdens Rhapsody In Blue
(Shanaz Scoop & Shanaz Flim Flam)
Owner: Ann Hallgren
2nd Best Veteran Bitch/HP:
NORDUCH SV03 NORDV03 Backhills Doris Day
(NUCH Travis Fool For You & Stora Barnviks Blue Nun)
Owner: Karin Staaf
3rd Best Veteran Bitch/HP:
SU(u)CH Guldkulans Crash Boom Bang
(Vitahotellets Kael & SU(u)CH Vitahotellets Pang Pang Bom)
Owner: Agneta Sundquist Olofsson
Veteran Bitch/no show:
SVCH Westerner Britannia Walk
(Westerner Walkin' On Air & Samcocks Sun-E)
Owner: Ann-Sofie Tjulin